Contemplative Masonry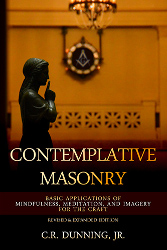 Part of the work that has become Contemplative Masonry first appeared on the internet in 2000 as an anonymously authored guide to the exploration of Freemasonry through contemplative practices like prayer, meditation, breath work, chanting, and visualization. Sixteen years later, the original author of that material, C.R. "Chuck" Dunning, Jr., has come forward with a substantially expanded edition for those seeking to utilize Masonic symbolism and teachings in a way that is practical, accessible, inspiring, and profoundly transformative. Contemplative Masonry is a much-needed resource for Masons seeking to undertake the challenging and rewarding work of deep self-knowledge and self-improvement. Brother Dunning provides Freemasons with a unique system of practices derived directly from the Degrees of Craft Masonry, without reliance upon other religious, spiritual, or esoteric traditions. He also shares the valuable wisdom and insights that come from decades of personal experience with contemplative practices.
The Path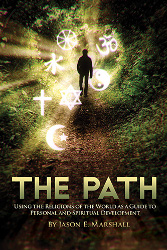 Jason E. Marshall became interested in the study of comparative religion during his undergraduate studies, after undergoing a truly transformational experience during an introductory comparative religion course. After his initial transformational experience, Jason undertook a personal journey to learn more about the various religions of the world in order to gain a better understanding of the ties that unite humanity, as well as his own true nature, and ultimately God. What began as personal notes from his studies and journeys became the genesis of this book. Rather than the normal dry recitation of facts that highlight the differences among the world religions, in The Path, Jason explores the seven major religions of the world in order to highlight the ties that should unite, rather divide, humanity. Jason also shows how the teachings and insights from the various world religions can be applied to anyone's journey of personal and spiritual development, regardless of one's particular path or spiritual background.
Morals and Dogma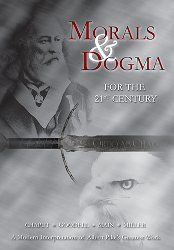 In 1871, Albert Pike created Morals and Dogma of the Ancient and Accepted Scottish Rite as a guide to the 32 degrees of Scottish Rite Freemasonry. It was his intention that becoming a Scottish Rite Mason require years of study to understand the allegories, the underlying moral lessons, and their applications. Pike's scholarly but practical instruction serves as a guide for every Mason working to be the best husband, father, brother, friend, and citizen that he can be. In 2007, a complete and comprehensive review was initiated to provide insight into Albert Pike's original work. This new book is the only edition that is not abridged, a digest, or an editorial commentary of the original book. The entire original book was translated into modern English from the difficult sentence structure and language prevalent in 19th century literature. Morals and Dogma for the 21st Century brings these important lessons back within the grasp of the modern Mason.